There have been two releases on seven-inch 45s to date.
"Uranium Road" / "CX-9"
pressed on maroon vinyl
label: Unclean
year of release: 1993
"An urgent, starkly alienated vision by a thoroughly modern Austin rocker." -- Rolling Stone
"CX-9" is also available on the Hit the Hay compilation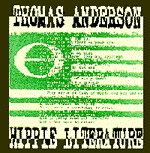 "Hippie Literature" / "Song for Up With People"
pressed on green vinyl
label: Propeller
year of release: 1996
A much-praised release.