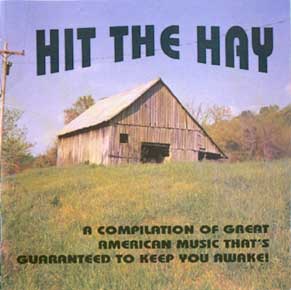 back cover
Hit the Hay
with "CX-9"
(this song is also available as a single)
label: Sound Asleep
year: 1994
Here's the introductory blurb by Jerker Emanuelson, a guy in Sweden who's fond of exclamation marks:
What you hold in your hands is a dream I have had for many years! That dream was to release a compilation with some of all the great American music that I love! Now that the dream has come true, and you are all invited to join me in all this fun!
What you will find on this disc are the kinds of music that I have always loved: POP, ROCK, COUNTRY-ROCK and ANYTHING INBETWEEN! The artists on this CD are more or less well-known, but they have at least two things in common: They play great music and they really deserve your attention!
So put this CD in your CD player and dig all these great sounds!
This compilation also features "Thrown Away," by Todd Walker, who played guitar on Anderson's first two albums.